The quantitative determination of methane and carbon dioxide isotopic fluxes from the most important source and sink regions constitutes a first order imperative in the union of energy, climate, and public policy for this country.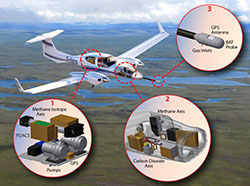 To address this objective, we propose to employ a strategy using the new Flux Observations of Carbon from Airborne Laboratory (FOCAL) system, which has the capability to deliver to the Arctic research community a first-ever carbon isotopologue flux system that combines state-of-the art technologies in spectroscopy, infrared lasers, electronics and computing, advanced global navigation systems, high-performance airborne vertical wind speed measurements, and a state-of-the-art, high efficiency aircraft that provides regional coverage with disciplined costs. The FOCAL platform provides spatially resolved, high accuracy and high precision measurements of CH4 and CO2 isotopic fluxes from melt zones in the Arctic. The imperative for field studies using the revolutionary FOCAL platform stems from the observation of rapid and unexpected changes in the Arctic climate in combination with the risks associated with accelerating the forcing of climate by methane and carbon dioxide release from permafrost and clathrates.
While this project would be focused study directed at the specific issue of carbon isotopic fluxes from the north slope of Alaska, the strategic approach intrinsic to the FOCAL system, outlined in detail in this proposal, is directly applicable to other areas in the Arctic, to the Arctic Ocean, to hydraulic fracturing operations for natural gas extraction nationally, to petroleum fields, and to other regions that establish the detailed mapping of the nation's net carbon balance. 
Learn More